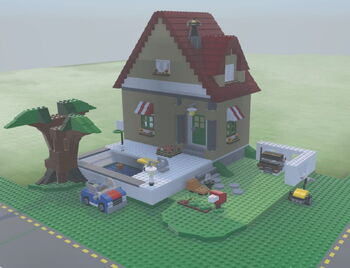 The first released playset was originally the LEGO Creator: Changing Seasons playset. This Brick Build came free during Early Access and was unlocked at the beginning of a new game, allowing it to be placed immediately. Now it is a part of Town builds, and it is unclear if there is a blueprint for it to allow players to build it for themselves. Playsets were an early version of the Build Showcase concept.
This build features a small tan house with a swimming pool, a small car and lawnmower, two Characters, and several interactive Objects.  Interacting with these Objects releases a random number of Studs.  Some of them have more than one interaction.
Tree
Red flowers
Swimming Pool
Mailbox
Flower Patch
Ground Plate
Recliner
Small House
Fence
Barbecue
Lamp
Because the Objects can be activated repeatedly for anywhere from 30 - 3,000 studs, this was considered the easiest and quickest way to farm studs during Early Access. The set is no longer available as a Brick Build and can only be found in Creator Towns, making this no longer efficient.